I promised to share with you what I wore to the Nashville Shakespeare Festival's performance of MacBeth.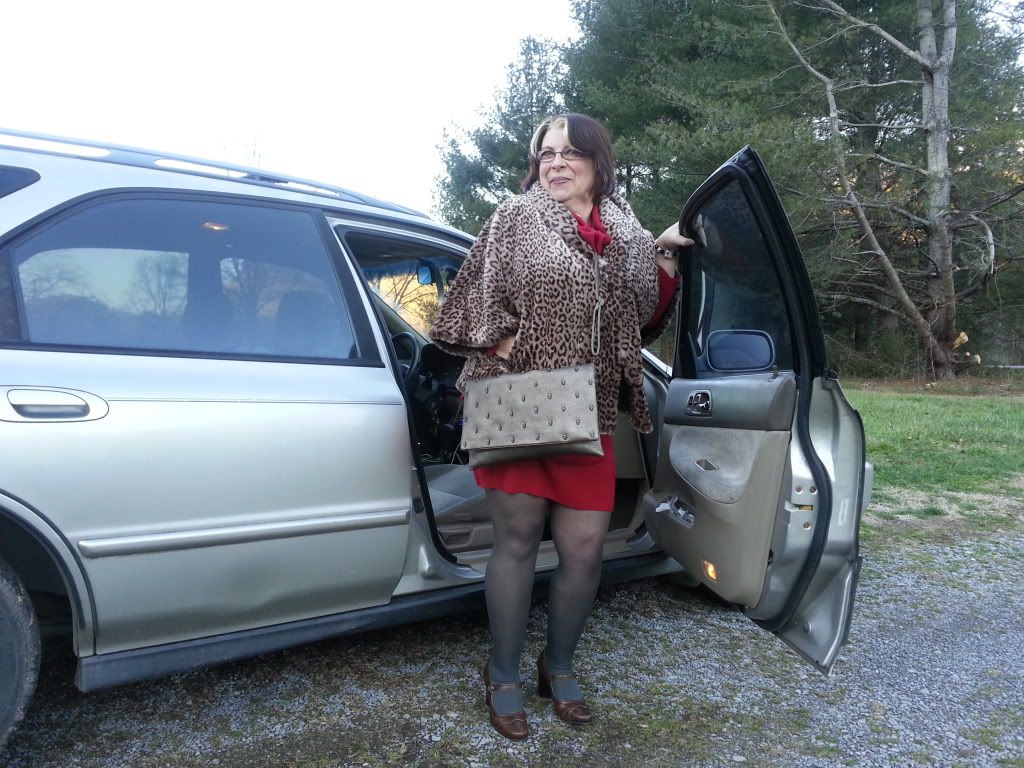 Okay, not as over the top as last week's Fashion Friday outfit. Nevertheless, it certainly stood out amidst the sea of grey sweatpants and beige puffer jackets. Honestly, is it that difficult to dress up just a little?
There's only a few recent pieces here, but the idea was to pay homage to the play and it's plot. Red, of course, is the appropriate color for this purpose. This Connected Apparel red cowl necked wool dress was purchased this past fall from TJ Maxx and set me back a mere $20. My wing tipped Mary Janes by Franco Sarto are 3" high - my maximum - and are five years old. The Marvin Richards faux fur leopard cape was my nod to the infamous soliloquy and is last year's clearance find from Stein Mart at $30. You've seen the skull clutch from Shi before so you know it was a Christmas gift. Although you can't see it in this photo I'm also wearing the antique citrine necklace I received for the holidays.
I enjoyed the production and set design of the play immensely. I did not enjoy a fair portion of the acting. It is the downfall of nearly every Shakespearean play I've seen that the actors race through their lines as if they'd just been set ablaze and must spit out their words before the fire can be extinguished. When will they learn to slow down enough to give the bard's words the weight they deserve? Lady MacBeth, in particular, was delivered manic from beginning to end, devoid of any sort of character arc whatsoever.
Still, I appreciate the actors, even Lady Mac, and those that worked so hard to realize a Shakespearean play on a cold January night in Nashville. It's not an easy task and I understand that all too well. I look forward to their interpretation of A Midsummer Night's Dream this summer.
• Spashionistas Wanted •
The outfits that I put together for Fashion Friday are based on my BODS profile. Sure, some of the items I use are beyond my price range but I'm certain I can find reasonable equivalents within my budget. I would love the opportunity to put some together for you for the next installment of Fashion Friday. If you're interested email me with your BODS profile and we'll make it happen!